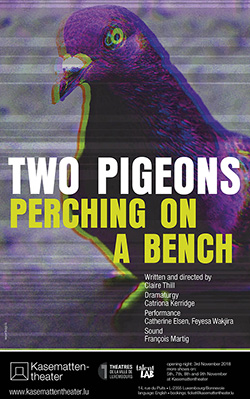 Two Pigeons Perching on a Bench
Vorführungstermine:
Am 3. 5. 7. und 9. November um 20 Uhr
Concept, text and direction: Claire Thill
Dramaturgy: Catriona Kerridge
Performance: Catherine Elsen an Feyesa Wakjira
Sound: François Martig
Eine Koproduktion des Kasemattentheaters mit den Théâtres de la Ville
Die ursprüngliche Idee für das Projekt wurde anlässlich
des TalentLABs 2016 vorgestellt und entwickelt
Opening night on 3rd November 2018
more shows on: 5th, 7th and 9th November
the show on the 8th of November is reserved for schools, no tickets anymore available!

language: English
bookings: ticket@kasemattentheater.lu
"A few minutes ago a sausage dog stuck its nose into the feathery casualty"
Flying rats, vermin of the sky, disease riddled birds?
Military photographers, avian postmen, messengers in the clouds?
The pigeons are fed up, now they have something to tweet about.
They are planning a coo to shake up the city and it all starts at Place d'Armes.
Two Pigeons Perching on a Bench by Claire Thill is about internet surveillance, eavesdropping and storytelling in the digital age. Disparate story lines unveil themselves. Fiction leaks into reality and reality into fiction. The audience will be drawn into a metaphorical world where sound is an influencer.
Featuring live sound, documentary style footage, a coo-ky bird's eye view with a surreal edge. Expect humour, a highly physical performance and very animated pigeons.