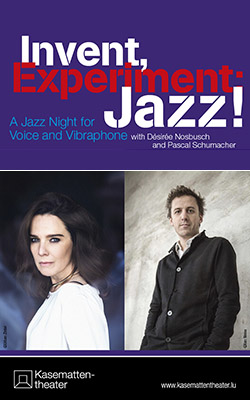 Invent, Experiment: Jazz!

A Jazz Night for Voice and Vibraphone
with Désirée Nosbusch and Pascal Schumacher
choice of texts Marc Limpach
10th June at 8 p.m. at the Kasemattentheater
Since the turn of the 20th century, poets have responded to jazz in all its musical and cultural overtones. Ever since its first flowering, jazz has had a powerful influence on American, but also European poetry. This reading features a selection of jazz-influenced writing and offers a treasury of poems and texts that are as varied and as vital as the music that inspired them. They pay tribute to jazz's great voices and throb with the vivid rhythm and energy of the jazz tradition, ranging in tone from mournful elegy to sheer celebration. Jumping boundaries like jazz itself, it offers the literary rhythms of an eclectic company of distinguished writers. From the Harlem Renaissance to the beat movement, from the poets of the New York school to the contemporary poetry scene, the jazz aesthetic has been a compelling literary force.
Jazz often had also a political dimension. There is of course Billie Holiday's extraordinary rendition of Strange Fruit written by teacher Abel Meeropol as a poem and published in 1937. That song emotionaly protested American racism, particularly the lynching of African Americans. But another dramatic illustration is the story told by Charles Black, a valuable member of Thurgood Marshall's team of lawyers during the long journey to Brown v. Board of Education, a landmark decision by the Supreme Court that paved the way for racial integration and was a major victory of the civil rights movement. In 1931, growing up white in racist Austin, Texas, Black at age 16 heard Louis Armstrong in a hotel there. "He was the first genius I had ever seen" Black wrote long after in the Yale Law Journal. "It is impossible to overstate the significance of a sixteen-year-old southern boy's seeing genius, for the first time, in a black. We literally never saw a black then in any but a servant's capacity. It was just then that I started toward the Brown case where I belonged." This reading represents a broad appreciation for jazz as poetic, cultural and political inspiration from artists across the decades. Containing poems not just about jazz, but also written in the spirit of jazz, this reading is an example of how productive cross- fertilization between the arts can be.
Désirée Nosbusch is Luxembourg's most recognised presenter and actress. Last season she was acclaimed by critics and the public alike for her touching performance in Gift at the Kasemattentheater. Since winning the Django D'Or for Young Talent in 2005 Pascal Schumacher has been relentless in assuring his position as an outstanding artist and composer. He is a Vibraphone player with a unique aptitude and sensitivity. His flair for improvisation is married to a lucid inventiveness which together creates an original sound as visionary as it is melodic. Joining Voice and Vibraphone, Désirée and Pascal will give their own innovative interpretation of classic and modern jazz-influenced writing.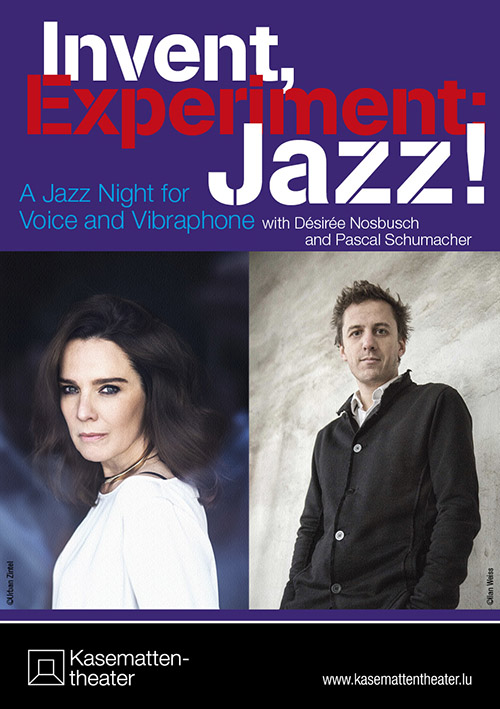 Vorführungstermine:
am 10. Juni um 20.00 Uhr