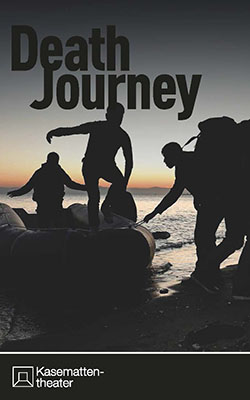 DEATH JOURNEY
by and with Hind Al-Harby
with the support of Annick Goerens and the team of the Kasemattentheater
,,I was born in a war.
I lived in a war and,
I ran away from a war."
Over 900,000 asylum seekers and migrants reached Europe by sea in 2015. More than 200,000 arrived on the Greek islands in October 2015 alone. Most of them come from countries where conflict, repression and fear force people to flee for their lives. The decision to make the journey is always very difficult. Refugees call it the "death journey". They know their lives are at stake. But taking even that risk is better than to continue living in those countries or in refugee camps in Turkey.
Iraqi TV-journalist and refugee Hind Al-Harby, 28 years old, arrived in Luxembourg in 2015. In this personal performance at the Kasemattentheater, Hind will tell you about her life back in Iraq, about the days of war and peace, her work as a journalist for public television under a repressive regime, the choice to leave her homeland and her friends behind and to attempt, what many refugees refer to as the "death journey". Listening directly to a refugee's tale of her journey enables you to grasp the subtlety of their stories and the huge range of emotions behind them. From anger, despair and fear to hope, guilt and mistrust.
Theatre has always been about telling stories and the Kasemattentheater offers its stage to Hind Al-Harby as she has an important and representative story to tell. Yet, it is not about giving a lecture or acting out lines. What you'll hear and see are facts and personal accounts, underlined with poems, pictures and videos, some rather disturbing, from Hind's time as a journalist and as a refugee on the infamous Western Balkan-route. When people flee their home with nothing, the only things they have left are their culture, their way of life and their stories. "Death journey" is the story of Hind Al-Harby and her family: direct, personal and honest.
at the Kasemattentheater on 23rd February 2016
Reservations: Tel: 291 281 (TAD) / Email: ticket@kasemattentheater.lu
Vorführungstermine:
am 23. Februar um 20 Uhr > ausverkauft/complet